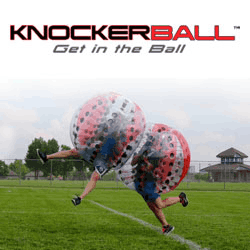 Knockerball
$99/hr for addtional time
Knockerball
®
is the newest and most unique way to have fun! It's been featured on ESPN, The Today Show, Fox Sports and more! So what is Knockerball
®
? Knockerball
®
is the all-encompassing, protective, safe, single- chambered ball of air with inner handles and shoulder straps that enables you to almost literally defy gravity and defy pain. Knockerballs
®
can be used to just have fun while perfecting rolls, flips and wheels or can be used to play organized games like Bubble Soccer.
All of our reservations include 90min game play, 10 Knockerballs
®
, and an attendant to setup the balls, organize any games, and breakdown the balls. We can setup indoor or outdoors. Participants must be 5' or taller to play. More time and balls can be added for a fee.
Knockerballs
®
are a fun physical activity for birthday parties, college campuses, graduation parties, summer camps, church groups, corporate teambuilding and much more! So "GET IN THE BALL" and book your Knockerball
®
event today!